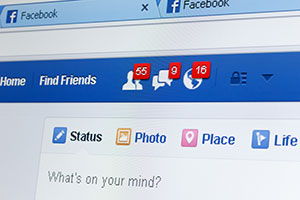 You know it's important to have a social media presence as a church in order to engage your congregation, but you're not sure what to post. You don't want to put up anything that would cause controversy, but you also don't want to post something so innocuous that your congregation will fall asleep on their keyboards. What do you do?
Don't worry—we're here to help. Yes, Facebook can be a dark place, but you can make Facebook (and other social media) a place for your congregants to turn for education, information, and encouragement. We've compiled some helpful prompts for you to turn to when you're faced with the eternal Facebook question: "What's on your mind?"
Ready to increase your donations and gifts? Learn more about The Giving Spring.
1. A Question
Again, you're not looking to start a flame war, but a question is a great way to get a conversation started. Consider things like, "What are you thankful for today" or "What was the last Bible verse that inspired you?" or "How has God been at work in your life this week?" People are eager to share their opinions, and it can be a good way for people who might not know each other well in real life to connect on a deeper level. The Buffer Blog states that question posts get 100% more comments!
2. A Photo
Photos are another proven way to get engagement from your Facebook followers. According to Hubspot, they get 53% more likes that a photo-free post. Make it a photo that will elicit a response—be it laughter, tears, or simply, "Awwwwwwww!" Take photos at events at church or around the office, and tag any Facebook friends who show their smiling faces!
3. An Invitation
If you're planning a guest-friendly event, don't forget to post the pertinent details on Facebook and ask for shares. If you feel uncomfortable requesting that your friends share your post, remember this: prompting your friends leads to a 77% higher share rate, according to Marketing Land. Toss out an invite to your next Soup Supper or bake sale, and watch the hordes arrive, ready to chow down! (Everybody knows these church ladies can COOK.) Make sure to remind your congregation to be their hospitable selves so that all your guests feel comfortable.
4. A Happy Thought
As we stated before, Facebook can be a bummer. Be a light in the darkness! Share uplifting thoughts or messages; even something as simple as "Have a blessed day!" might be encouragement to someone who really needs it today. Or, consider sharing an uplifting Bible verse, such as Psalm 34:8, "Taste and see that the Lord is good; blessed is the man who takes refuge in Him (NIV)." You never know who might be reading it.
5. A Book Club Discussion
Many churches host book clubs with great success, facilitating thoughtful discussion groups to learn from books both spiritual and secular. Try extending your book club to your Facebook page, with a new discussion prompt each week, chapter by chapter. This will publicize the group, ensuring that you're getting maximum participation, and it will allow people to join who might not be able to be at the physical meeting each week.
Hopefully, these will trigger some ideas to help you enliven your Facebook page. It's a useful tool, and a super way to maintain connection with your congregation throughout the week. Whether you post a question, a photo, an invitation, or a happy thought, we strongly encourage to start posting!
Looking for a simple online giving platform to help increase donations and gifts? Get started here.
Get Started
Ready to increase your donations and gifts? Complete this form to get started.