Introduction
As your organization researches the many options for online donation software, you'll have many decisions to make. Even for tech-savvy professionals, the thought of setting up an internet-based giving system can be intimidating! We hope this guide informs and helps you feel more confident as you make your decision, from choosing the right platform, to implementing it, and integrating your new system into your fundraising campaigns, and beyond.
Chapters in this Guide:
1. Overview
2. How It Works
3. How to Choose the Right Online Donation Software
4. Weighing the Costs
5. Security
6. Tips for Making It Easy to Give
7. Optimizing Your Website for Online Giving
8. Social Media, Email Marketing, and More
Download: Final Checklist to Select & Setup Online Donation Software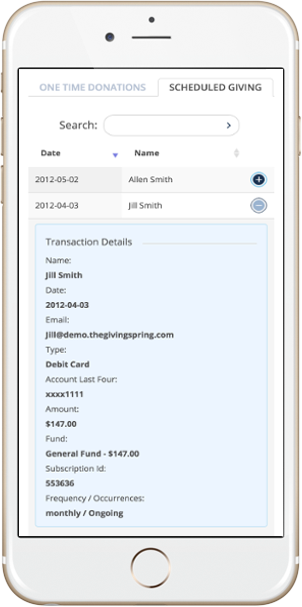 Chapter 1: Overview of Online Giving and Why You Need It
Taking donations online is a standard practice for any business or nonprofit. Still, some orgs hesitate to dive into or upgrade their online giving because of various hurdles—costs, unfamiliarity, technology needs, maintenance and more.

Like most things in life, the reality is not as scary as you might imagine. Once you understand how online giving works and you have the tools to do it, you may find yourself wondering why you didn't take the plunge years ago.
According to M+R 's Benchmarks 2017 Study of nonprofit digital advocacy, fundraising, social and advertising, they listed the following key findings that concern online giving:
Overall online revenue grew by 14% over 2015 totals, with monthly giving growing at a rate of 23%.


Web conversion rate — the percentage of website visitors who completed a gift — was up by about 8%.


Email accounted for 26% of all online revenue in 2016

Your donors expect easy and convenient ways to donate to your organization. Now is the time to get online and mobile giving a part of your overall nonprofit fundraising strategy.
Taking payments online requires a few things. The service you choose should be able to help you get each component setup and working together:
1. Secure website and payment system, or third party platform.
Your website needs to have a payment system in order to accept payments online. Maybe you don't have this functionality in your website CMS? Most don't. No worries, you can choose a third-party platform that integrates seamlessly with your website.
2. A payment gateway.
A payment gateway is a service provider that authorizes payments for an organization ("seller"). A payment gateway is the online equivalent of the card swipe machines that you see in stores when you are checking out.
3. A merchant account.
A merchant account is a type of bank account that allows businesses to accept payments by debit or credit cards.
We will discuss each of these vital components in the next chapter: How Online Giving Works.
Chapter 2: How Online Giving Works & what happens when someone makes a donation online
When someone makes a payment online (such as registering for an event or making a donation), the process from start to finish looks like this:
1. The user enters their e-check or credit card information and clicks the "Submit" button.
2. The website encrypts the information and sends the credit card information to the payment gateway (Authorize.net in our case).
3. The payment gateway checks to see if the credit card number is valid, does some fraud screening, and checks to see if the charge is approved (this takes a few seconds).
4. If the charge is approved, the payment gateway sends an approval notice back to the website so that a confirmation message can be displayed to the user.
5. The website completes the purchase however it is designed to do so.
6. The payment gateway captures the fund and makes a deposit into the seller's bank account (it takes a few days for the money to appear).
7. The seller ships product, sends confirmation or does whatever needs to be done to fulfill the transaction.
All of this happens behind the scenes while the donor is waiting for the confirmation.
Can my website do all of that?
You may be thinking, my nonprofits' website content management system (CMS) doesn't have ecommerce or secure online payment processing capabilities! You're not alone. There are third-party platforms that specialize in online donations and many organizations choose to go with a third-party solution that can integrate with their website. Additional functionality, security and enhanced user experience are just a few of the reasons this is a good option for most nonprofits. We will dive into how to choose the right system in a later chapter.
---
How does the payment gateway part work?
The payment gateway works behind the scenes with the online donation system that you set up, and it's a critical part of the security and PCI compliance of your system.
The payment gateway checks to see if the credit card number is valid, does some fraud screening, and checks to see if the charge is approved. If the charge is approved, the payment gateway sends an approval notice back to the website so that a confirmation message can be displayed to the user. The website or third-party system completes the purchase however it is designed to do so. The payment gateway captures the fund and makes a deposit into your organization's bank account.
So, the payment gateway handles the banking transaction between the donor's bank or credit card, and your nonprofit's bank account.
Authorize.net has an informative and interactive resource on their website that you should check out here: 7-Steps Credit Card Process. The Giving Spring partners with Authorize.Net to process payments in a safe and secure manner. Authorize.Net's dedication to strict internal security policies and industry security initiatives are part of the reason why they are one of the most trusted payment gateway providers.
---
How do I set up a merchant account?
You will need a bank account and a credit card merchant account in order to accept credit card payments. A merchant account allows your customers' payments via credit cards, Apple Pay and other contactless payment transactions to be transferred to your bank account.
Depending on the payment gateway or online donation software that you choose, a merchant account and merchant services may be provided in your monthly fees and rates. Authorize.net, Square, and others provide these types of merchant services, but they also allow you to use their services and set up a merchant account with the provider of your choice. In those cases, you'll receive separate billing for the merchant account fees and the payment processing fees. More about fees and rates in the coming chapters!
Chapter 3: How to Choose the right Online Donation Software for your nonprofit
While there is no one-size-fits-all solution for every nonprofit organization, there are key features you should look for and understand when selecting your online donation software.
Nonprofithub.org states that their research shows around "15% of the registered non-profit organizations will be researching then deciding upon a new fundraising software system" in any given year.
In their 10 Biggest Myths When Purchasing Fundraising Software, the #1 myth when it comes to selecting the right software is "The system with the most features and functions must be the best one to buy."
Know What You Need
While you might be impressed by a long list of features, chances are you won't actually use them. So, it's important to know exactly what you need before selecting a system that works for your fundraising needs.
Gather information from your team—Understand how everyone in your organization will use the software and interact with it. Make a list of the features they hope to use every day. What is it about your current system (if you have one) that isn't working?
Research a variety of systems—Compare platforms by price and features and gather a list of good, better, and best to help you narrow it down. See the next section for how to compare costs, rates and features.
Focus on essential tasks—What are the most essential tasks you need from your online donation system? Don't be mesmerized by long lists of complex features if you're sure your organization won't need or use them. A simple feature set may be all you need.
Demo multiple systems—Request a demo of the software. Make sure you focus on those essential, daily tasks as you talk to software vendors and go through demos. Vendors often like to share the shiny, sexy features of their software, while not focusing on the essentials.
Budget—Narrow your list to the systems that fit your budget. While it's good to consider systems who might be a little outside your budget, you will have an easier time comparing when you eliminate the systems that are way out of your price range.
---
Important Features to Consider
What features do you need? What do you need to bring your nonprofit's giving into the 21st century? Let's discuss key features and functionality your organization should consider.
Getting Started or All-in-One—Do you need all-in-one fundraising software that includes email marketing, donor CRM, peer-to-peer campaigns, events management? Or, are you just getting started with online and mobile giving? At the high-end you have all-in-one fundraising platforms like eTapestry or Raiser's Edge, which can start at hundreds of dollars per month in monthly fees (not to mention the transaction fees, and other costs). These scale up or down and depending on the feature set, number of account records, and more. At the more modest end, you have starter solutions like The Giving Spring and PayPal Pro that focus on basics of taking online payments and simple reporting.
Mobile—Does the platform have a mobile view or app so users can give from a phone or tablet? Your donors will expect the ability to give via their mobile devices.
Secure Giving—Is the platform built on a secure framework? Do they use a reputable payment gateway? Identity theft is an issue that cannot be ignored. You MUST ensure that whatever platform you choose, it's going to keep donors' information safe and private. More on security later in the guide.
Billing Profiles—Can users set up a secure billing profile, so they don't have to enter billing information every time? Can they do scheduled or recurring giving? Can they give without having to create an account?
Customer Service—What is the service level? Is it a DIY set up process, or do they take a more hands-on approach with helping you set up your account and processes?
Website Integration—Is the platform easy to integrate with your website, email marketing program, and other tools you use?
Reporting Tools—How detailed are the reports? Are they customizable? Can you easily create reports for your donors come tax time? Does the software provide an export for Quickbooks?
Customization—Can you request features or customize the software to meet your specific needs?
---
What is the Implementation Process?
Finally, consider the implementation process of the system. Ask detailed questions about implementation: how will the transition work? Will I have hands-on help with the implementation from your customer service team, or will my team be mostly responsible for setting up the system and implementing it into our fundraising processes? What is the training and customer service like after implementation? These are important considerations for how easily your organization will be able to get started using your new system.
Chapter 4: Weighing the Costs
There are dozens of options to look at when you're searching for the right online giving platform—functionality, ease of use, price and fees.
Costs associated with your system require close examination. You'll want to understand a few basics about the fees, monthly or annual rates, and other possibly hidden costs that you may encounter when comparing system.
When it comes to price, you don't want to spend a large portion of your donations on fees and hidden costs to support the online giving platform, so it's just good sense to look closely at the plan before you decide to commit.
Let's look at basic costs and fees that most systems will charge you:
Start-up/termination fees—Ask your provider if they have any start-up fees associated with getting started on their platform, or a one-time fee for implementation, or any fees for terminating your plan.
Monthly fee—Many platforms will have either a monthly fee or annual fee, depending on their pricing structure. For example, PayPal Pro offers a $30 monthly rate for most accounts, and discounted rates for charities.
Batch fee—A batch fee can be charged to you, the merchant whenever your account "settles" their terminal. Settling a terminal, also known as "batching", is when a merchant sends their completed transactions for the day to their acquiring bank for payment. For example, The Giving Spring charges a 10 cent per batch/day fee and 0 batch fee if there are no transactions for the day.
ACH/e-check transaction fee—e-check payments are set up when your donor selects to use their bank routing number, rather than a credit card number. E-check fees are typically lower than credit card transaction fees. For example, we have worked with Authorize.net to get a low rate of only 55cents per e-check transactions. Our process is designed to encourage the maximum number of e-check transactions from your donors, which means that you keep more of your donations, and pay much lower transaction fees. You can read more about ACH/e-check compared to traditional credit card processing fees here.
Credit Card Processing fee—This is one of the most standard fees you'll find across most platforms. Credit card processing is typically set up with a percentage plus a fixed fee. There are many variables to this rate (international vs. U.S. transactions, currency conversions for international sales, etc.) but a standard rate is 2.9% + 30cents per transaction.
Customer service fee—Is support and training included in your monthly rate, or extra?
Minimums—Do you have a minimum amount per transaction, or a monthly minimum dollar amount for the month? For example, some platforms have a minimum of $10 per month for your account, meaning they expect you to get at least $10 a month in donations or you may be charged fees or penalties.
---
Comparing Costs
It's important to consider the rates and compare how much your organization will be paying, throughout the year, in transaction fees, monthly fees, and any other regular fees from your online giving platform.
If your platform charges the same rate for e-check as they do Credit Cards, say 2.9% + 30cents per transaction, then those fees will be much higher than a flat rate for e-check, say .55c per e-check.
Here's a concrete example using The Giving Spring .55c e-check rate, compared to both PayPal Pro and PayPal Pro Nonprofit rates, which charge the same for both e-check and credit card.
For our comparison we're going to assume your organization collects $100,000 / yr in online donations. We'll also assume that your average donation amount is $75.00 and that 50% of your donations are made via e-check.
Looking at the Bottom Line
Keep in mind the savings gap between fees will increase if your organization frequently has a average donation greater than the $75.00 figure used above or if you have frequent large one time donations.

These rates can make a big difference in your bottom line and determine how much of your donations you actually get to keep, so it's worth taking the time to review your processes, the habits of your donors, and your typical donations. How will those things affect the rates and fees charged by the platforms you are considering?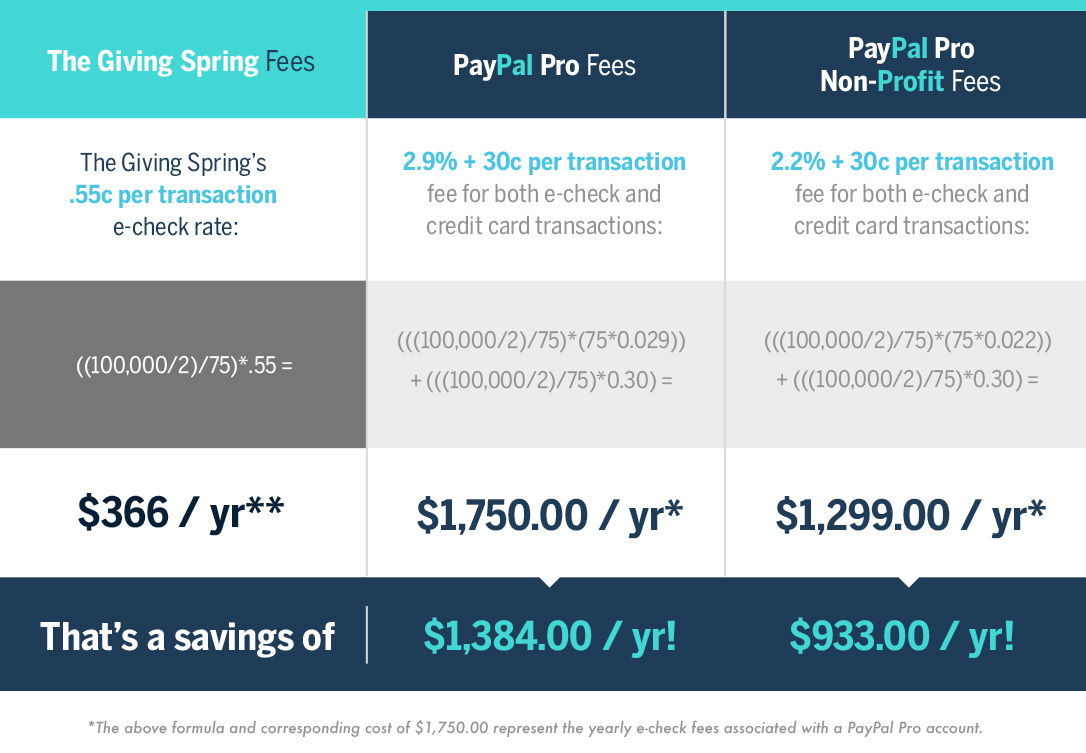 Chapter 5: Time to Talk About Security
What questions should you ask when considering a new online giving software or system? How do you convince your donors that online giving is safe?
If you ask the following questions of your provider, and understand the basics of secure online giving, you'll be able to answer with confidence when your donors wonder about the security of giving online.
Is the system PCI compliant?
The Payment Card Industry Data Security Standard (PCI DSS) is a set of security standards designed to ensure that all companies that accept, process, store or transmit credit card information maintain a secure environment. For example, Authorize.Net is audited yearly to confirm that it remains in compliance with the Payment Card Industry Data Security Standard (PCI DSS). You can check this list of PCI DSS compliant service providers, updated monthly, at http://www.visa.com/splisting/. The list details the service provider, validation date, services covered, assessor and the regions covered.
If you are accepting credit card payments, your nonprofit should also follow PCI compliance standards and protocols, and can learn more about it here: https://www.authorize.net/resources/pcicompliance/
How can I tell if the site is secure?
Make sure your provider uses an SSL certificate. SSL stands for Secure Socket Layer. An SSL certificate verifies the identity of the website and its owner. You can identify this by the little locked symbol that shows up in your web browser and the URL is HTTPS rather than HTTP.
Before entering credit information online, you should always check the URL in the address bar. If the URL begins with "https" then you know the site is encrypted and your information will be transmitted securely.
Additionally, you want to make sure your entire website is under SSL, not just your donation tool. This is good for overall security and good for SEO.

Who processes the payments?
When you select an online giving portal, the portal administrator is partnered with a secure company to help with processing. Because there is a third party whose sole job is security, you can be assured that your payment and financial information is safe and secure.
The Giving Spring works with Authorize.net to ensure secure payments. As mentioned in this guide, Authorize.net is a leading payment processor and BBB Accredited business—they have strict policies and security initiatives to give you peace of mind.
Who has access to my information?
In every financial transaction, we should be aware of who has access to our personal information. PCI compliance is Personal data should only be available to admin users for reporting and administrative purposes. Data should never be shared or sold to third-parties, and all privacy policies should be clearly outlined. You can read ours here. The Giving Spring only stores the last 4 digits of a credit card number or bank account for transaction identification purposes. All other payment data is sent to and stored by Authorize.net at the time of submission via a secure transaction connection. Be sure to read the privacy policy and terms of use for each system that you are considering.
How do I know each donation gets processed?
Your portal should give you access to reporting tools and live transaction statuses, in case there are any questions about a particular transaction. When researching your online giving software, find out details about the For your members, like any purchase or donation, you should encourage them to keep receipts of their transactions.
Ask about the process from the donor perspective. How will they be notified their payments was processed? Will they receive an email or text receipt of their gift?
Administrators should have access to weekly and monthly reports, as well. The system should generate annual reports that you can send to each donor, for use in the charitable donations portion of their tax returns.
Chapter 6: Tips for Making It Easy to Give Online
Make it easy for your folks to give. Here are few ways to setup and promote your new system, so that everyone knows how to give to your nonprofit online.
Add a Button
This might seem obvious, but the first thing to do is add a prominent button on your website that says "Give Now" or "Donate." Place the donate button, link or banner front and center so that it is easily accessible as soon as someone lands on your website. Keep the message and design simple, so donors won't become confused and give up halfway through the process.
Email Marketing Campaign
Email is one of your best fundraising tools. Include links to donate online in your email marketing campaigns and communications. You may wish to email a key list of contacts, letting them know that you now have online giving platform and ask them to test it out before rolling it out to your entire database. And finally, follow these 7 Tips for a Successful Fundraising Email Campaign.
Mobile Friendly
Double check your website and email campaigns on mobile viewports to make sure your buttons and calls-to-action are easy for smartphone and tablet users to find and click.
Facebook
You can now add a Donate button on your organization's Facebook Page. Keep in mind your Page's category must be set to "Nonprofit Organization" in order to view the Donate Now call-to-action button. You can add the Donate button to the top of your Page the same way you add other call-to-action options.
Facebook has listened to the needs of nonprofits, associations, and churches and added some very nice functionality to help support your online fundraising through your org's Facebook Page. Learn more here: 5 Facebook Tools Your Nonprofit Should Use for Online Fundraising.
Getting Started Campaign
Plan a kick-off campaign to encourage members and donors to sign up for automated monthly donations. Highlight the ways your nonprofit uses the funds, with special speakers or videos of those served by the donations, and wrap it up with a celebration event. Emphasize the convenience of automatic withdrawal, and encourage the people who've already signed up to share their positive experiences.
Auto-response Emails
Put a little extra thought and love into your follow-up communications. What message will donors receive when they create an account, or setup recurring giving? Configure your follow-up emails so that they include a call-to-action about an upcoming event, volunteer need, or another giving opportunity.
Chapter 7: Optimize Your Website for Online Giving
Do you know the top 10 performing pages on your website?
You may have thousands of pages on your website, but only a small fraction of those pages get the most traffic or make the biggest impact for your business. So, how are you using those pages to your advantage?
Before you can optimize, you need to identify. How do you define a high-impact website page? You might focus on traffic, clicks on a Donate Now button, or form submissions for donations. Perhaps you have a contact form on a volunteer page that doesn't get a ton of traffic, but is one of your best forms for getting contact submissions.
Here are the steps we're going to look at in-depth for identifying and optimizing your high-impact website pages, and some practical tips on how to optimize these pages to get more donations:
1. Get the data.
First, you need data. Before you can get started identifying your most important pages, you need access to real data, not just a feeling or a hunch.
We use these tools on the regular: HubSpot reporting dashboard, Google Analytics, and heat mapping software like Hot Jar or CrazyEgg. These tools will give you an accurate picture of what pages get the most or least traffic, if you have broken links, how long visitors stay on a page, how often they jump right off the page, and other important stats.
2. Identify high-impact pages.
Visits, form submissions, and donations are 3 of the most important metrics for your website, but every company and website is different. Here are a few examples of how you might identify your priority pages:
Visits (what pages/blog posts get the most organic search traffic)

Conversion rates based on your focus metric (downloads, event registrations, volunteer form submission, etc.)

Leads to donors/engaged members (what pages/content make an impact at the bottom of your funnel)

Referrals (pages that get good referral traffic from credible websites)

3. Double-check your CTAs on these pages.
What do your CTAs on these high-impact website pages look like? Do you see the Donate Now button immediately when you land on the homepage? Is it a contrasting color? Would a first-time visitor have to hunt for it? But don't stop with the obvious! Take time to lead your visitor on a journey of discovery. Make other prominent calls-to-action for those who want to volunteer, register for an event, or learn more about the good work you do. Make sure CTAs resonate with the content on the page—for example, Subscribe to the Blog on your blog posts, and Register for an Upcoming Event on the events calendar page.
4. Optimize for SEO and marketing best practices.
If you're new to SEO and marketing best practices, we have two great resources for you.
The guide goes into tremendous detail about SEO and optimizing your website for search. The cheat sheet is a handy 1-page reference that helps you optimize your website and keep it maintained. It covers content optimization, keywords, images, meta description, H1 titles and more basic best practices.
5. From micro to macro—step back and get the big picture.
Examine the flow of your website, from page to page as you click through. You may want to gather feedback from volunteers, donors or complete strangers who aren't familiar with your site for a different perspective.
Where do your top performing pages fit into the "buyer's journey" of your prospective donors and members? Are they working together? There should be a logical flow that takes the visitor through a journey, learning more about your organization and services, and leading them to take action, engage, or donate.
You may find that some pages are out of place or hard to find, or that they lead to a dead end.
6. Rinse and repeat.
This is just the beginning! Optimization is an ongoing process. Make a regular appointment on your calendar to repeat this process every quarter or annually, depending on how quickly your industry changes. You can do it!
Chapter 8: online fundraising with Social Media, Email Marketing & More
Online giving software is just one step to making it easier for your donors and members to give to your organization. There are so many other tools and techniques at your fingertips, but they can all be used to work seamlessly with your website and online donation software if you plan it right.
The online world offers a new avenue for innovative and dynamic efforts to raise necessary funds in a variety of ways. Here we'll discuss five kinds of fundraising techniques that you can do completely online, giving you the chance to breathe new life into your organization's fundraising efforts without donning a fancy getup or sitting in a dunk-tank.
Contests
There's no better way to encourage donors to give like enticing them with rewards. Contests can be carried out completely online on a per-donation basis (the more they donate, the more chances they have to win) or on a random selection basis at the end of the event.
With donation software embedded in your website, you can easily keep track of donors and their information, which will make it simple to organize or randomize data when it comes time to choose the winner.
To secure prizes, speak with partners of your organization or local businesses and see who would be willing to donate items for the cause. Use these items as prizes to encourage users to make larger and more numerous donations.
Personal Initiatives
Though a new trend emerging in the fundraising world, peer-to-peer fundraising shouldn't be underestimated. But what are peer-to-peer initiatives, anyway?
Peer-to-peer initiatives are presented on a personal basis and relies on the networks of individuals and their friends, family, and acquaintances. Often linked with crowdsourcing, this method takes individuals from an organization and has them each set up a personal donation site where funds can be raised alone before being gathered into a collective fund at the end of the event.
This initiative is effective; studies have shown one in four marketing emails lead to a donation for peer-to-peer fundraising versus one in 1250 for a collective non-profit organization initiative.
Facebook
Individuals can create their own fundraiser on Facebook, as well, so you don't need fancy Peer-to-Peer fundraising software if you utilize this tool on Facebook, and promote how it works.
Your nonprofit must have a registered Nonprofit Page on Facebook so that individuals can create a fundraiser for you. Here's how individuals can set it up:
Point users to this link to "Create a Fundraiser" here or find the Fundraisers button in the left menu of your News Feed.

Name your Fundraiser and be prepared with these items: Cover photo, Fundraiser Title, Your story, End date, Goal amount

You can create a Public or Private fundraiser.

Promote your Fundraiser on your timeline and share with friends!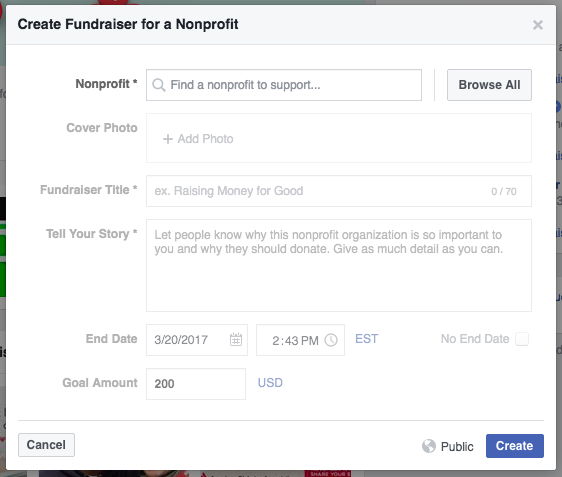 Donation Matching
Another fantastic fundraising technique that can be completed completely online is donation matching! While the method does require some coordination and a generous donor to match donations, this online initiative is a way to grab your audience's attention and encourage them to donate now.
When it comes to finding the donor who will match donations, start by seeking out corporate sponsors who are passionate about the cause of your organization.
The idea is simple. Hold an online fundraising event based on a certain time frame— typically, a full day or perhaps a week. At the end of this time frame, all donations given to your organization through your site's donation software will be matched by the generous donor.
The best part of this initiative? Your audience is more likely to make time for donating if their donations are matched, which means that your organization gets double the funds for less time and effort.
Amazon Smile
Perhaps the easiest way to raise funds online is through the outstanding Amazon Smile. If your audience is like most Americans, they're already using Amazon for their online shopping needs. This means that donors will be familiar with the platform, which will make them even more likely to donate to your cause through this avenue.
All potential donors have to do is shop as they normally do, and your organization receives .5% of their total purchases. It's just that easy! To begin, simply sign your organization up to be part of Amazon Smile, and then spread the word. Utilize social media, send an email blast, or even send postcards or fliers if you fear your audience isn't likely to be plugged into Facebook or Twitter.

A Strategic Email Fundraising Campaign
Every nonprofit, church or association knows that email is a key component of their fundraising machine. Planning a strategic campaign will make your email marketing and fundraising more effective and efficient. A good campaign shouldn't be a "one and done" email blast. Follow these steps to creating a strategic email fundraising campaign: Created a big goal for your campaign. Know how you'll be measuring success. Target your audience and segment your lists. Personalize the content to your audience. Get all of your assets ready to go—graphics, landing pages, calls-to-action, customized lists. Plan the journey and steps of the campaign. Make sure it's easy to donate every step of the way by removing any friction or unnecessary steps for your users. Get all of the pieces in place first, and make sure to TEST everything! After you send the campaigns, analyze what worked and what didn't so you can improve the next campaign.

#GIVINGTUESDAY
This year, Giving Tuesday is November 28, 2017. In the past, Facebook has partnered with this movement, and it's definitely worth looking into again this year if you've never participated before.
"For #Giving Tuesday, the Bill & Melinda Gates Foundation matched a total of $900K in donations, matching each donation as it came in until we reached $900K in matching funds."
Here's how you can get involved with Facebook's partnership with Giving Tuesday.
Final Thoughts on Fundraising
While online donations and techniques are powerful tools for scaling your resources, don't neglect the personal touch. With a hyper-connected virtual world, comes a lack of real personal connections to other human beings in the physical space. In-person events are important, not just to fundraising efforts but to making real ties with your donors, volunteers, members, staff, and the community at large. Your live events need even more love, promotion and planning to be a big success. Here are a few tips to help you promote your next big fundraiser, using your online donation system as the backbone of fundraising efforts.
RESOURCE: FINAL CHECKLIST TO SELECT & SETUP ONLINE DONATION SOFTWARE SYSTEMS
Use this checklist as you compare various online donation software platforms, and as you get started implementing your new system.

As your organization researches the many options for online donation software, you'll have many decisions to make. Even for tech-savvy professionals, the thought of setting up an internet-based giving system can be intimidating! We hope this guide informs and helps you feel more confident as you make your decision, from choosing the right platform, to implementing it, and integrating your new system into your fundraising campaigns, and beyond.
If you're interested in a customer-friendly, low-cost online donation platform, click here to schedule a demo with us!