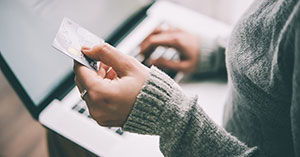 Nonprofits, churches, and other member-based organizations -- are you offering online giving for your members and donors? If not, what's stopping you?
According to M+R 's 10th Benchmark study of 105 nonprofit organizations, online revenue grew by 19% in 2015 -- even better than the previous year's 12% growth.
Taking donations online is a standard practice for any business or nonprofit. Still, some orgs hesitate to dive into online giving because of various hurdles—costs, unfamiliarity, technology needs, etc. Like most things in life, the reality is not as scary as you might imagine. Once you understand how it works and you have the tools to do it, you may find yourself wondering why you didn't take the plunge years ago.
Taking payments online requires a few things:
Secure website and payment system, or third party platform

Payment gateway

Merchant account

Your website needs to have a payment system in order to accept payments online. Or, you might choose a third-party platform that integrates seamlessly with your website. A payment gateway is a service provider that authorizes payments for an organization ("seller"). A payment gateway is the online equivalent of the card swipe machines that you see in stores when you are checking out. A merchant account is a type of bank account that allows businesses to accept payments by debit or credit cards.
When someone makes a payment online (such as registering for an event or making a donation), the process from start to finish looks like this:
1. The user enters their echeck or credit card information and clicks the "Submit" button
2. The website encrypts the information and sends the credit card information to the payment gateway (Authorize.net in our case)
3. The payment gateway checks to see if the credit card number is valid, does some fraud screening, and checks to see if the charge is approved (this takes a few seconds)
4. If the charge is approved, the payment gateway sends an approval notice back to the website so that a confirmation message can be displayed to the user
5. The website completes the purchase however it is designed to do so
6. The payment gateway captures the fund and makes a deposit into the seller's bank account (it takes a few days for the money to appear)
7. The seller ships product, sends confirmation or does whatever needs to be done to fulfill the transaction


Behind the Scenes
All of this happens behind the scenes while the donor is waiting for the confirmation.
Many organizations choose a third-party system, like The Giving Spring, to handle online payments because of the additional functionality, security and enhanced user experience.
We built The Giving Spring on the enterprise ready Zend Framework. It implements current security best practices while providing lightning fast performance to donors. We process all transactions with the leading online payment gateway provider Authorize.net. Want to see how it works for yourself? Click here to schedule a demo.
Monthly Fees
The monthly fees from the gateway and merchant account are usually somewhere between $15 and $30 per month with a percentage fee of about 2% - 3% per transaction.
Here is pricing comparison between PayPal Pro and The Giving Spring:
PayPal Pro:
$30 per month
2.9% + 30¢ per e-check
2.9% + 30¢ per credit card transactions
The Giving Spring:
$17.95 per month
55¢ per e-check transaction
2.9% + 30¢ per credit card transaction
Once some paperwork is filled out, we create your custom portal, setup your Authorize.net account and work with you to integrate the system into your website and processes. At this point, your organization is now ready to accept donations online and the process should be automated from start to finish.
Whether it's selling products, taking donations, or allowing online event registration, online payments make your organization easier to do business with. This means happier members and donors, and more revenue. What's the cost of not taking payments online?
Want to see how it works for yourself? Click here to schedule a demo.
Get Started
Ready to increase your donations and gifts? Complete this form to get started.