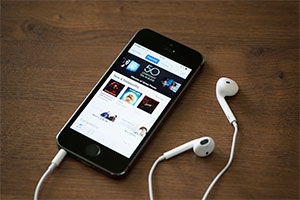 You've put your blood, sweat, and tears into this week's sermon, and there's a blizzard on Saturday night. You're preaching to an empty church come Sunday morning! Or, maybe some of the members of your congregation are unable to make it to church on a regular basis, due to ill health, car trouble, or anything else.
Additionally, there are surely people beyond your congregation who could definitely benefit from hearing your message, or perhaps there are people who heard it on Sunday who would love to revisit it at their leisure later in the week. You want to get your message out to as many people as possible, so what can you do to make that happen? Podcasting to the rescue!
Ready to increase your donations and gifts? Learn more about The Giving Spring.
Podcasting 101
First, let me answer the question that some of you might be afraid to ask: "What is a podcast?" It's essentially an on-demand "radio show". Anyone, including the most technophobic among you, can podcast. Truly, the hardest part is finding something to podcast about, and you've got that covered! Now, you've just got to follow these easy steps, and you're on your way.
Step 1: Record Your Message
There a number of different options you can explore when it comes to getting your audio into a digital format. If you're working with a soundboard, it's best to get the sound straight from there, running a cable from the board directly to a microphone or line-in jack on a desktop or laptop computer to record. From there, you'll just need to download some recording software—Audacity is an excellent option, and it's free. GarageBand is a great free choice for the Mac lovers out there, too.
If your church is a more low-tech setup, you might consider recording with an mp3 player/recorder. They're inexpensive, and even though they don't have lot of memory, they've certainly got enough to record a sermon. You can simply press record before you start speaking, set it on the podium, and do your thing.
Step 2: Upload Your Message
You've made it this far—hang in there! You can upload the audio to your website, but for some, that can really push the limits of your bandwidth, especially if word gets around about your awesome sermons. If you're confident in the strength of your website, and your website is hosted by WordPress, you can easily add the Sermon Browser plugin to host your podcast. The service is free, and it's a platform created especially for pastors to share their sermons with the world. It's easy to use, and has pretty comprehensive tutorials to get you up and running quickly.
For those of you who don't want to host your podcast on your website and you aren't especially tech-savvy, you should consider looking at an all in one service, which will host the sermons, provide an online audio player, and display a list of the sermons available. Buzzsprout is a good choice, with a free package that allows you to load two hours of audio/month for free. Each "episode", or sermon, is kept for 90 days. The for-pay options start at $9/month, and your sermons are stored forever.
Step 3: Create the Feed
You've recorded the audio, and you've chosen your hosting site—now, you need to make sure your podcast can be found by the masses! The most efficient way to this is to add the feed to iTunes. Your podcast hosting service should be able to help you with this, but if they don't, no worries—you can do it yourself.
While iTunes will make your podcast available to iOS users, some people might prefer to use a different service. You can also submit your podcast to a service like Stitcher, which is very popular among Android users, in particular. Now that your podcast is up and running, don't forget to notify everyone that it's available! This is an excellent time to utilize your social media platforms to inform your congregation and their friends that they can listen to your sermons anytime, anywhere.
Podcasting is growing in popularity, and the best way to ensure that your congregants are getting your message in this day and age is to make it available in the formats with which they're most comfortable. Don't be shackled by tradition—join the movement!
Podcasting and online giving go hand in hand—learn more about how the Giving Spring can increase your donations and gifts here.
Get Started
Ready to increase your donations and gifts? Complete this form to get started.