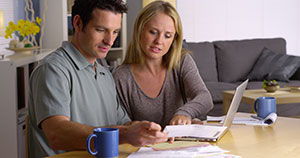 It's likely that you've heard of Dave Ramsey's Financial Peace University; it's the bible-based plan that helps families manage their money, eliminate debt, and spend and save in a more responsible manner. You can order the program and do it in your home, or you can participate in person at a class near you.
SpinWeb President/CEO Michael Reynolds has led three FPU classes and plans to lead many more. Michael told me, "Most people in the United States don't know how to manage money well. There's a mindset of instant gratification that keeps them from acting like adults with their money."
Looking for a simple online giving platform to help increase donations and gifts? Get started here.
It's his belief that FPU can help people learn that personal finance isn't as difficult or frustrating as it's sometimes perceived to be, and with guidance, you can learn how to manage your money in a manner that will allow you to take care of yourself and your family. Michael kindly agreed to share some of the lessons he's learned as he guided couples through the program.
1. You must let people come to the program on their own timeline. "Some people grab the information and run with it, but others can take much longer to see the impact on their lives," says Michael. It's your job as a leader to be a facilitator; you can't push people into changing their behavior when they're not ready for it yet.


2. You must bring your enthusiasm to the class. The material is challenging for many people, and if you don't come into it with passion, it can be a long slog. "You should live the philosophy," Michael says. "Walk the walk. Show them the excitement of getting your finances in order."


3. Avoid judgment. "It's your job to make sure everyone there is comfortable, not judged." Michael acknowledges that Dave Ramsey can be conservative about certain topics, such as cohabitation prior to marriage, but he feels that it's his responsibility to ensure that no one in the class feels that they're being looked down upon for their life choices or financial mistakes.


4. Create a safe space. Finances can be a sensitive topic, so it's vitally important that the people in the class feel that you're fully engaged. Even if members of the class engage in frustrating behaviors, such as arriving late or leaving early, you must not show their frustration. Everyone must feel safe to ask questions, and each question must be honored, no matter how obvious or frivolous it might seem to you.


Michael says he finds leading FPU to be tremendously gratifying. Instilling passion for personal finance in people who were previously unwilling or even frightened to address their financial issues is rewarding, for them and for you.
Ready to increase your donations and gifts? Learn more about The Giving Spring.
Get Started
Ready to increase your donations and gifts? Complete this form to get started.