A church board is a machine with many moving parts, and communication is vital to keep all of the parts moving smoothly. In the old days, this communication was done face-to-face or on the telephone, but now? There are easier, more convenient methods of keeping in touch with your fellow church board members. One of our favorite ways to share thoughts and processes conveniently is with Google Docs.
Google Docs is simple to use and, best of all, it's free to anyone with a Google account. It's part of the Google apps suite, and it's an online word processor that allows you to create and manage documents online easily. You can send the most recent minutes for this month's meeting to the entire board, and if anyone has anything to add, they can add it themselves! No more back and forth between you and the other members of your board.
But how do you convince everyone that this is the best way to collaborate? Change can be scary, and not everyone is ready to embrace technology. Church has traditionally been a safe haven for technophobes, but if you share some of the advantages of moving your processes into the digital realm, you're sure to convince even the most die-hard tech-haters.
Online giving made easy enough for the technophobes in your congregation—click here to learn more.
What Can Google Docs Do for You?
Yes, Google Docs are an established presence in the business world, but how can it benefit your church board? Well, look at some of the awesome features of Google Docs.
1. Your can share your doc with other people and let them view/edit or give them whatever permissions you choose.
2. Multiple people can be in a document at the same time making changes, and you can see what everyone is doing in real time!
3. No emailing a single file back and forth; it's saved in the cloud.
4. Once the file is ready, you can download it and save it in a number of formats (Word, PDF, rich text, plain text, etc).
5. Leave comments, questions, and notes for those collaborating on the document.
Document Creation
Let's talk about creating a document. It's truly simple, and we're going to walk you through the steps required to make a document that you can share with your whole church board.
First, you need to log on to your Google account. Once you're logged on, click on the square next to Images:

It will open the menu, where you'll click Docs.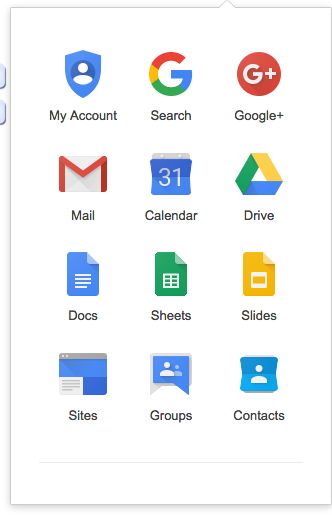 This will bring you to a screen that will list all of your current documents as well as the options available to create a new doc.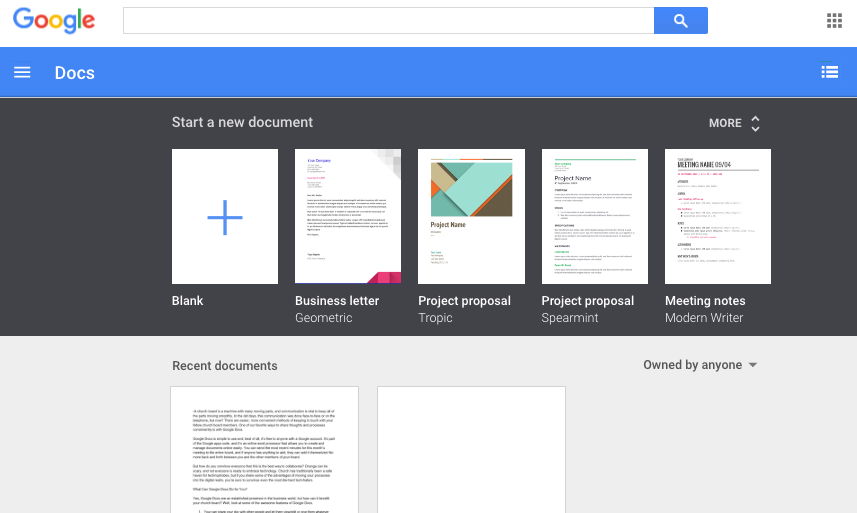 Simply click Blank to create a new document.
You can add a new folder to store docs in, or you can create a new document. You can also create a new spreadsheet (similar to Excel) or presentation (similar to PowerPoint), but we'll stick with a standard document for now. Just be aware that the same options apply to other types of docs, as well.
Once you create a new document, you'll be presented with a blank page with a standard set of word processing tools at the top.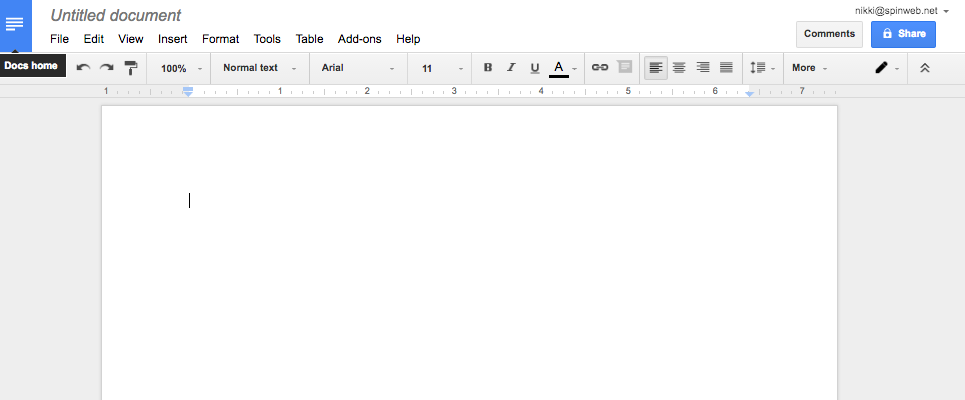 The first thing you'll want to do is give your doc a name. You can do this by clicking the words "Untitled document" at the top. Now you can give it a brand new name to your choosing.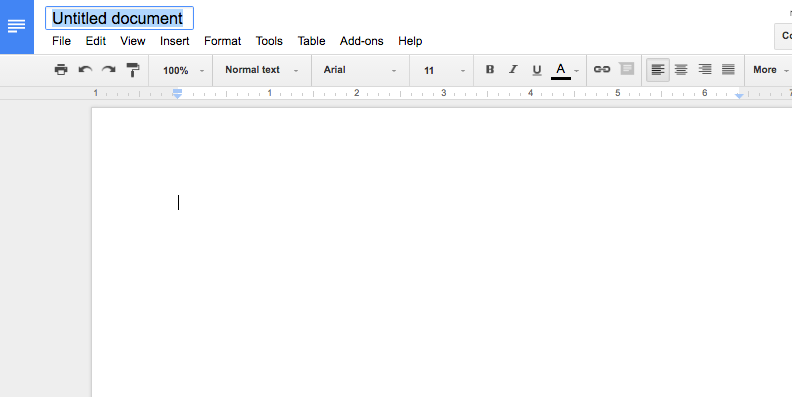 You're set! It's time to write! Treat your Google Doc just as you'd treat a normal Word document— type and format like you always do
Bonus-- you document is stored in the cloud, which means you won't have to worry about saving it to your computer, or losing it. It auto-saves every minute, so all you need to do to get back to it is open your web browser, go to your Google Drive, and click on your document.
Sharing Your Document
You've created your document, so now it's time to get to the good part—sharing it. Google Docs is a wonderful way to allow everyone to not just see your work, but also edit it. Say, for example, you've created the minutes for the most recent board meeting. In the old days, you'd send a copy to each member, and they'd send you any changes they felt you needed to make. You're stuck juggling amendments from everybody!
With Google Docs, you share your document with your fellow board members, and should someone notice that you've neglected to add an important point—no problem! Rather than engaging in an endless email back-and-forth, the board members can just make the change themselves. No fuss, no muss!
To make this dream a reality, you simply click on the "Share" button in the upper right hand corner.

This will open up the screen that will allow you to share the document.
To share the document, you simply enter the email addresses of the people with whom you want to share it into the box marked "People". This will invite them to work on the document with you. Please note—if you only want them to be able to see it, not edit it, you can change the setting on the right.
If you start to type an email address that's already in your list of contacts, it will auto-complete with their full name and email address, so you just need to select the person you want to include. If the person you want to send it to isn't on your list, just type the whole email. Separate multiple email addresses with a comma.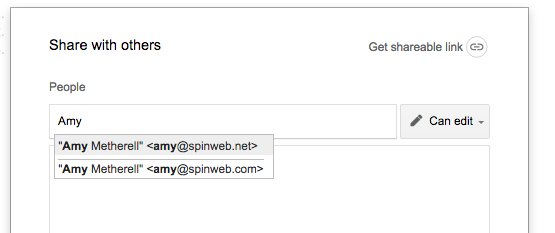 It's smart to add a personalized message to the document, so that the recipients know what they're looking at when they get it.

What's Next?
Once you've invited others to see and/or edit your document, they'll get an email with a link to the document. All they need to do is click on the link to go to the document and edit it directly online.
The best part? All changes they make will be tracked and saved automatically—no more panic when you accidentally close the document! You can compare and roll back to any earlier version you wish. Also, people can add comments to the doc if they're interested in offering their feedback without actually editing it.
If you want to take a look at the whole revision history of a document, click on File in the toolbar; you'll see an option for "See Revision History".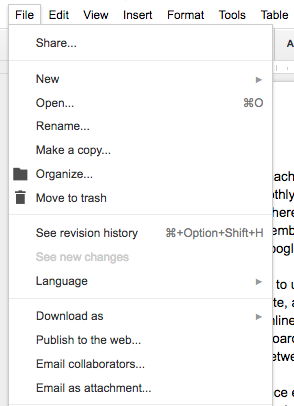 Simply click on that, and it will open up the revision history.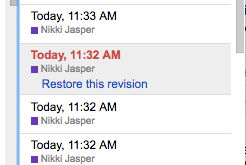 You can click on the version you're interested in viewing, and it will show you what was revised then. If you'd like to restore that version, you can just click on it.
As you see, Google Docs is an excellent way to work with a team. It's efficient, and nobody gets stuck doing all the editing; everyone's editing the same document, everyone sees the latest version of the document, and all the changes or comments are tracked and automatically saved. Also, your doc can be edited from a tablet or mobile device—this is so convenient for today's modern church board.
Are you ready to take your giving and donations to a another level? Talk to us about implementing a user-friendly online platform today.
Get Started
Ready to increase your donations and gifts? Complete this form to get started.