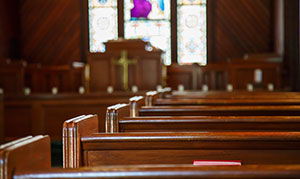 Today, many more churches are working to reduce paper waste, improve efficiency in their operations, and make it easier for members to donate anytime, anywhere. One way to accomplish this is to implement online giving. There are many advantages of online giving but for some church members, there are many concerns - especially regarding its safety.
How do you convince your congregants that online giving is safe? Let's discuss some questions your church members may have in your efforts to convince your congregation that their sensitive information is secure
How can I tell the site is secure?
Before entering credit information online, you should always check that a site is secure. Check the URL in the address bar. If the URL begins with "https" (The "s" stands for "secure." ), then you know the site is encrypted and your information will be transmitted securely.
Who processes the payments?
When a church implements an online giving portal, the portal administrator is partnered with a secure company to help with processing. Because there is a third party whose sole job is security, you can be assured that your payment and financial information is safe and secure. The Giving Spring works with Authorize.net to ensure secure payments. They have strict policies and security initiatives to give you peace of mind.
Who has access to my information?
In every financial transaction, we should be aware of who will have access to our personal information. Luckily, congregations do not sell personal information. The payment processing database is only available to those who need the information, such as the finance committee or accountant. The amount of information these roles receive will vary by church, but they are mainly interested in overall giving and pledge fulfillment.
How do I know my donation went through?
Like any purchase or donation, you should keep receipts of your transactions. After your payment is processed, you will get an email receipt to confirm your donation. In addition to weekly or monthly reports, the online giving portal can also give you an annual report which will be helpful in filling out the charitable donations portion of your tax returns.
How can I learn more?
Since online giving can seem like a risk for some members of your congregation, setting up a training experience may help ease some of their fears and give them the peace of mind to try out online giving. During this meeting, you can have training on using the mobile app or website portal, discuss who has access to information, and answer any questions that arise. This is also a great time to remind your members why they should use online giving.
Where can I get help?
Making a "Give Now" button easy to find on your website is a great start, but some congregants may still have questions from time to time. Make a contact number and/or email address readily available for such questions. This is also helpful if the website is malfunctioning.
Because technology is always changing and improving, it can be intimidating for some congregants. Using an online giving system that adheres to the strict security standards can help ease some fears at using a new technology.
Exploring online giving options? We can help. Contact us to get started.
Get Started
Ready to increase your donations and gifts? Complete this form to get started.