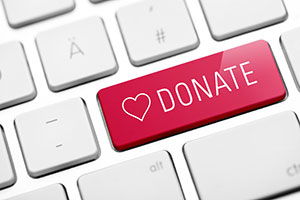 More and more churches are beginning to embrace the idea of offering the option to tithe or donate online. There are many advantages to online giving -- it's convenient, it's easy for your congregants to track, and it opens up the opportunity to give beyond the walls of the church. But what should you look for as you shop for a giving portal? Most of us aren't IT professionals, so the thought of setting up an internet-based tithing and donation system can be intimidating, to say the least!
What do you need to take into account as you bring your church's giving into the 21st century? Let's discuss some of the things you and the church should consider when you start down the path toward online giving.
Ready to increase your donations and gifts? Learn more about The Giving Spring.
Check the Cost
There are dozens of options to look at when you're trying to find a platform for your internet-based giving. However, you must carefully consider which one is best for you and the needs of your congregation. Of course, you don't want to spend a big portion of the congregation's hard-earned money on fees and hidden costs to support the online giving platform, so it's just good sense to look at the plan very carefully before you decide to commit to one in particular. You'll want to keep your eyes open for such things as:
Start-up fees

Batch fees

ACH/Check fees

Credit Card Processing fees

Building a Billing Profile
Another thing to consider is how your congregants will interact with the platform. For example, does this program force them to create an account to donate, or will it allow them to contribute as a "guest"? If the person isn't a member of your church, or if they simply don't want to keep track of another password, requiring them to create an account can be a deterrent.
However, if someone chooses to create an account, will the program allow them to build a billing profile, so that they don't have to enter their credit card and billing information every time they want to make a payment? What about automated giving—is that an option with the software you're considering? Some people prefer the "set it and forget it" method of donation, so this should definitely be available.
Mobility
As technology evolves, your church's giving options should evolve with it. When people surf the internet, it no longer means that they're sitting in front of their desktop computer; more often, they're using their smartphone or tablet, and they need your giving platform to be mobile responsive.
Secure Giving
Of course, your congregants are concerned with internet security; identity theft is an issue that cannot be ignored. You MUST ensure that whatever platform you choose, it's going to keep their information absolutely secure.
Do your research; check the online giving portal that you're considering carefully to determine if they take security as seriously as you do. Look to see if they partner with a secure company to process the payments—there should be some indication of their approach to security on their website, and if there's not, a phone call is in order.
Reporting Tools
This might seem inconsequential, but your online giving platform's reporting tools can be an important consideration, for you AND your congregation. Of course, it's convenient for you to be able to run customizable reports that can provide you with graphs that show your giving trends, but the members of your congregation will benefit from these tools, too.
Giving your congregants the ability to track their own giving will be an invaluable resource for them, particularly at tax time, when it's time for them to determine their charitable giving for deduction purposes. They won't have to go through their credit card statements, or wait for you to release their contribution statement at the end of the year. They can easily track what they've given and when, at the click of a button.
Now, you're armed with the information you need to take the leap into the world of online giving. You'll be pleasantly surprised at how easy and efficient it can be, and your church members will thank you!
Looking for a simple online giving platform to help increase donations and gifts? Get started here.
Get Started
Ready to increase your donations and gifts? Complete this form to get started.