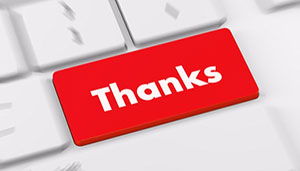 As the year is coming to an end, people are more willing to give. Whether motivated by Christmas spirit or tax-deduction, statistics say giving increases between Thanksgiving and New Years Day. This is the perfect time to think about your marketing campaign. Follow these tips to make your end-of-the-year marketing campaign a success.
Christmas E-cards
Sending out a Christmas or Holiday E-card is a great way to thank current and future donors for their commitments and their role in the success of your church. This E-card can include a link to make general donations or to special giving programs, such as a building fund. People seem more eager to donate to a special fund or make an annual donation, but be sure to point out that recurring giving can make an impact beyond just the end of the year.
Offer Multiple Opportunities
Asking for help more than one time is more effective. People are forgetful, particularly at this very busy time of year, and reminders keep their intentions fresh in their minds. Start with the Christmas E-card, then send out fun email messages and a tax-deduction push message. Don't forget to send a "Last Chance to Donate" email on December 31st to catch those last minute donations. Twelve percent of donations come in the last three days of the year! Make it easy for your congregation to give by offering several options: email, website, in-person.
Progress Report
If you are in the middle of a fundraising campaign, be sure to send out a progress report. If you have a graphic, be sure to include it in your email. Here's a great example of a progress graphic from Shining Hope for Communities (SHOFCO). It clearly shows what has been donated, and how far they need to go to make their project happen. This is the great time to point out any gift-matching contests there may be. This helps encourage giving, no matter how small because congregants will feel like their gift does make a difference.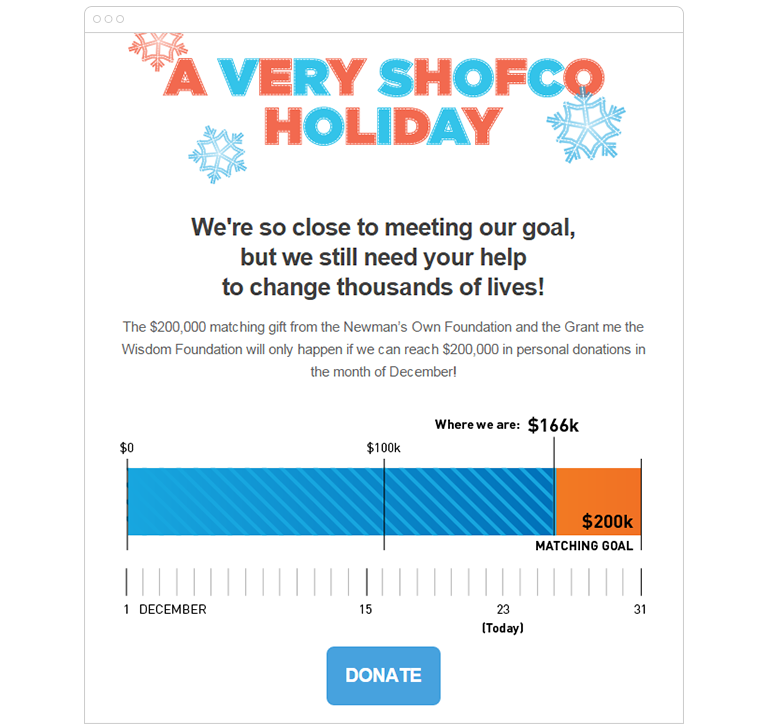 Sharing is Caring
Think about how news spreads in this day and age. Social media platforms are definitely an efficient way to get information out into the world. Make it simple for your donors, and any other supporters, to spread your message by presenting your content in a way that is easy to share with their friends and family on social media. Take the best content of your marketing campaign emails, and create a graphic or video highlighting numbers and other helpful information.
Spin a Story
In the marketing world, storytelling is a big deal right now. Putting a face on fundraising efforts can create more of an emotional reaction than a plain old email request for help. The emotional response will lead to the recipients opening their hearts...and, ideally, their wallets. Request that your staff make videos or write personal letters stating how the donations will be used. Ask congregants to share how previous donations have benefited them or someone they know. Let your donors and other supporters know what your congregation was able to accomplish in previous years, and how their monetary donations will be used to benefit those in the church and beyond in the coming year.
Acknowledgments
Your grandma was right— thank you notes go a long way in expressing your appreciation. After you receive a donation, don't forget to say, "Thank you!" No gift is complete without the proper accolades. Donors want to know that you appreciate their gift, no matter how small it may be. Be sure to have a quick turn-around on the thank-yous and tax information. Include a note stating when donors should expect tax donation acknowledgment, so they can know when to look for them.
Since thirty percent of gifts come in December, we encourage you to put some or all of these tips into practice this year. With a little extra effort, you'll be ready to hit the ground running in 2017.
Get Started
Ready to increase your donations and gifts? Complete this form to get started.